Roasted apples, warm baked blackberries, sprinkles of cinnamon and brown sugar. We're in the mood for some Autumnal baking. You know that Bon Accord is all about the fruit, so we're leaning heavily into fruity bakes this season. 
Here are a few simple recipes for those of us who didn't graduate beyond the complexity of a lockdown banana bread. These bakes will have your house smelling like a real bakery in no time (we're hoping for something reminiscent of the treats from our favourite cafe's). 
Prep: 15 mins
Bake: 1 hour
Servings: 8

Galette is the perfect lazy gals pie that's impossible to get wrong. Imagine making a pizza and topping it with apples before rolling the sides in. That's a galette.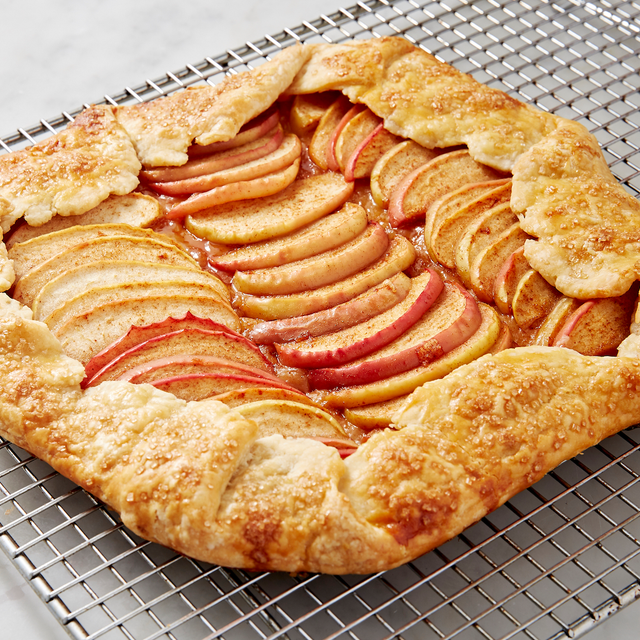 This recipe from Delish asks for homemade pastry. Now, you could make your own, but I'm the first to admit that my effort levels don't really stretch that far when I'm baking. I prefer to buy my pastry, but go ahead and make your own if you have the resolve.
Ingredients
1 shortcrust pastry
2-3 large apples - cored, peeled & sliced
50g brown sugar (light or dark)
1 tsp. ground cinnamon
¼ tsp. ground nutmeg
Pinch of salt
Egg wash: 1 large egg beaten with 1 tablespoon of milk
Optional: Creme fraîche or your favourite ice cream

Method 
Pastry
Preheat the oven to 190°C

Line a large baking sheet with baking paper and set aside

On a lightly floured work surface, roll out the dough roughly into a 12-inch circle (this doesn't have to be perfect!)

Place the dough on the baking sheet
Filling
Combine the apple slices, brown sugar, lemon juice, cinnamon, and a pinch of salt in a large mixing. Gently fold to coat the apples.

Arrange the apples in the centre of the dough, leaving a 2-3 inch border around the edges

Gently fold in the edges of the dough (overlap the dough if you need to), and

 press the edges down to seal them

Brush the egg wash over the crust

Bake for 40-45 minutes until the crust is golden brown and the filling is bubbling slightly
Let cool for a few minutes
Slice and serve with a dollop of creme fraiche or your choice of ice cream
Apples and spice pair well with a hit of ginger. Why not try one of our
Bon Accord Ginger Beers
with your galette?
Prep 15 mins
Bake 40 mins
Servings: 6

Everyone loves a crumble. Of course, it inevitably brings the custard vs. ice cream vs. double cream debate, but we think anything would go amazingly well with the warm spices of this bake. Most of the ingredients are store cupboard ones, and the whole recipe from BBC Goodfood takes under an hour to make from start to finish.
Ingredients

Filling
800g ripe plums, halved & stones removed
50g light brown sugar
finely grated zest of 1 orange
1 tsp ground cinnamon
1 tsp plain flour
Crumble
250g plain flour
150g butter
80g caster sugar
80g demerara sugar
50g ground almonds

Method
Heat the oven to 180°C
Filling
Put the plums into the base of a shallow baking dish around 20-30cm long 
Mix in the sugar, orange zest, cinnamon and flour 
Trickle over 2 tbsp water
Crumble
In a mixing bowl, rub together the butter and flour using your hands, then stir in other the other crumble ingredients
Scatter the crumble mixture over the filling and bake for 30-40 minutes until golden
Leave to cool for 15 minutes, before serving with custard, ice cream, or cream
Prep 20 mins
Bake 30 mins
Servings: 25-30

This list wouldn't be complete without indulging in some delicious chocolatey treats. Blackberry-picking is one of the UK's most popular pastimes, and this addition from The Happy Foodie brings a lovely tartness to the classic brownie recipe.
Ingredients
120g dark chocolate, broken into small, even-sized pieces
120g butter
2 eggs (whisked)
225g unrefined caster sugar
110g self-raising flour
150g blackberries
Method
Heat the oven to 180°C 

Line a square baking tin with baking paper

Heat the chocolate and butter in a large saucepan over very low heat. Melt the chocolate, mixing frequently.

Once the chocolate has melted, remove the mixture from the heat and add the eggs, sugar and flour

Mix until smooth, then stir in the blackberries

Pour the mixture into the baking tin and scatter a few more blackberries over the top

Bake for 30 mins (or until a nice crust has formed on top). 

Leave to cool (unless you're like me and love warm brownies)

Cut into roughly 25-30 squares, serve
Make sure to tag us on Instagram @bonaccordsoftdrinks with your creations! 
Why not grab a Bon Accord soft drink to go with your bakes? Sign to our newsletter to get 10% off your first online order!
Check this out next: